For the Malaysian market BMW offers 3 models for the 320i, ie the entry level 320i, the 320i Sports and the 320i Coupe. Both the 320i Coupe and this model appear to have similar specs. The 320i Sports comes with the additional package of M aerodynamics, M suspension, M steering wheel and slightly thinner profile rear tyres.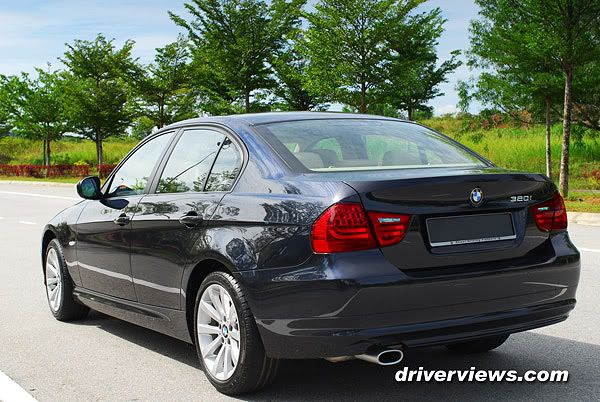 This write up features the entry level model for the 3 series. This sample model is assembled in Malaysia for its domestic market and is a facelifted version of the earlier E90. The car lines are now more aerodynamic giving an overall aggressive look.
Although this model is considered 'basic', it is well equipped with features not commonly found in entry level models of other brands in the same engine capacity. Some of these features include multiple air bags (front, side and head), Dynamic Stability Control, Dynamic Traction Control, Park Distance Control, Cruise Control, Xenon headlights, Servotronic, just to a name a few. The 320i models in Malaysia so far do not come with the I Drive.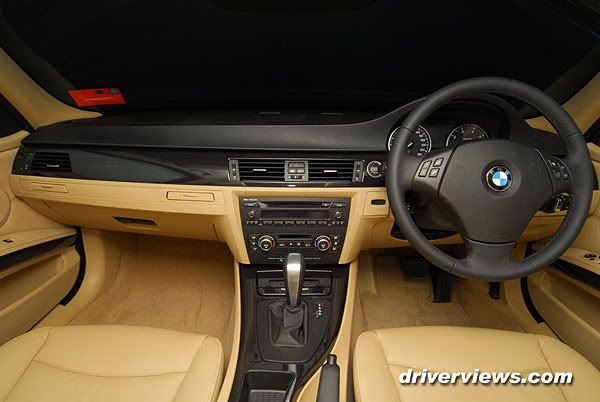 DRIVING IT
Step inside and you'll notice that the interior dimensions are adequate for all passengers including the driver. Larger frame drivers would probably want more legroom. The alternative would be the coupe version of the 320i which offers more legroom and a larger door for entry.
The car sports a basic leather steering wheel with multifunction buttons. Although the car is equipped with Servotronic, the steering wheel feels a bit heavy. This will be good for those who want a lot of feedback on the road but maybe a bit too heavy for others.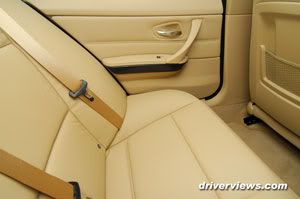 The engine upon ignition has slightly lower noise levels (outside) compared to the 6 cylinder 325i. Internal NVH whilst driving is good as the driver and passengers are generally shielded from exterior noise.
Generally power is adequate for the car, but at times while driving at full auto I was hoping for a faster response especially in gear change when I floor the accelerator. Gear changes (at low gears) sometimes take place at higher rpm (at around 4k to 5k). The car also needs time to built up speed and momentum, giving a slower than desirable response. To speed up the response I sometimes drove in Steptronic mode.
The engine is a 4 cylinder petrol engine with a slightly higher than average power output of 156bhp/6,200rpm and max torque of 200nm/3,600rpm. Transmission is 6 speed automatic with Steptronic. There are no gearshift paddles on the steering wheel.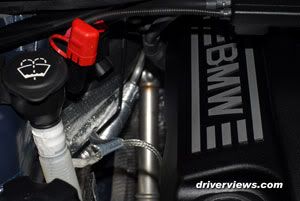 The fuel tank capacity is around 63 litres. The car was driven with a mix of town and highway roads using full auto and M6 Steptronic when cruising. The car logged up to 441km when it reached ½ tank. So, its about 14 km per litre (guesstimate without accessing on board computer). Previous experience with older E90 model showed that fuel consumption can be improved while cruising at M6 (Steptronic). Another person later drove the car on full auto and obtained about 10.2km per litre based on the on board computer reading. Try cruising at M6 and see whether it makes a difference to your fuel consumption.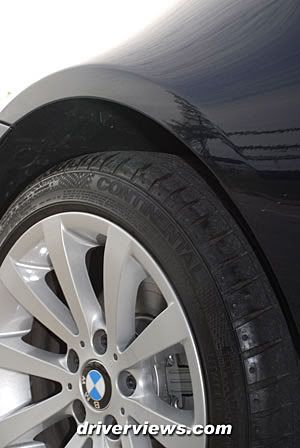 Since this is a BMW, and as expected the car's balance and handling is good. The 17 inch runflat tyres provided adequate grip and the ride is on the slightly harder side but not too harsh and uncomfortable.  This car's set up is more suitable for the Malaysian urban roads compared to the harder set up of the Sports version.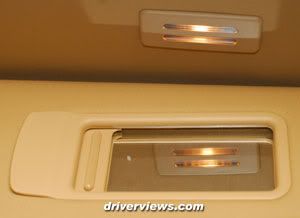 The car's sound system provides a balanced sound at default without leaning too heavy on the bass or treble. There are ample interior reading lights available for both the driver and passengers. Some would also appreciate the built-in light for the vanity mirrors!
This car now comes with switch for folding the side wing mirrors. This was omitted in the earlier E90 320i models and for this market is quite important since its common to drive and park in narrow roads.
Driving at night is easy on the eyes with the Xenon headlights.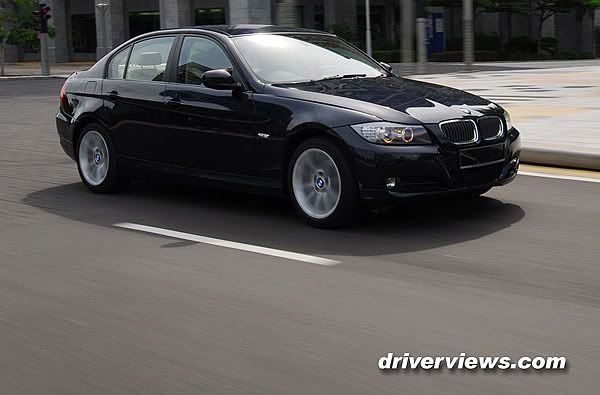 VITAL STATISTICS
| | |
| --- | --- |
| Engine: | 4-cylinder in-line petrol engine with Valvetronic |
| Capacity: | 1,995cc |
| Max Output: | 156bhp/6,200 rpm |
| Max Torque: | 200nm/3,600 rpm |
| Top Speed: | 218km/h |
| Acceleration 0-100km: | 9.8sec |
| Fuel Consumption: | 8.0ltr/100km |
Source: BMW Brochure
Note: Please reconfirm the above specifications with an authorized BMW dealer
SOUNDS
Click on these to sample sounds from the car!
320i Ignition & Horn (Outside)